Senior Sessions to Resume W/C 17th May
Senior Squads will resume training during week commencing 17th May, it is anticipated that there will be sessions for Ladies on Wednesday 19th and for Men on Thursday 20th & Friday 21st at Woking College - Details will be confirmed nearer the time
---
Return to Play Update 2nd March 2021
Following the Governments plans to come out of Lockdown , Basketball England have revised and Published the Return To Play Doocument
Click Here to See the Full Documents
A summary of the changes can be read here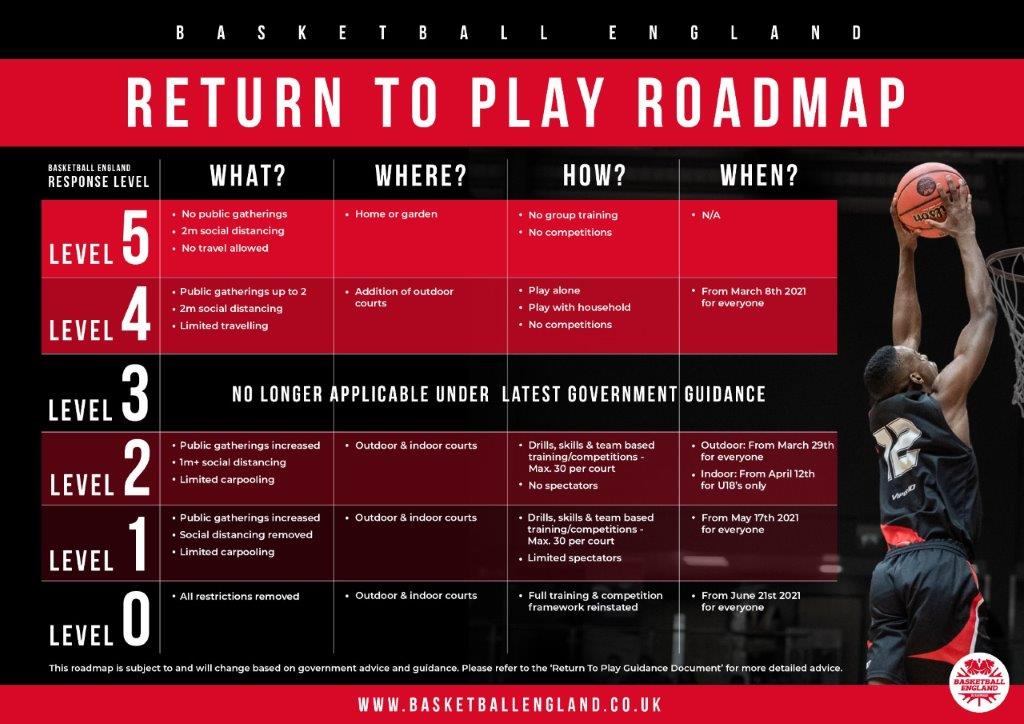 ---
Senior Sessions
Suspended
Update 5th January 2021 - With Lockdown 3 Basketball continues to be suspended - click here
Update From 5th November Basketball is at level 4 resulteing in the suspension of all basketball activities except to elite game see BE update
In Accordance with the recent change in Government Guidelines all senior sessions have been suspended until further notice
In accodance with Government Guidance Junior Sessions will be suspended from 5th November -

see see youth pages
In accordance with Basketball England Guidance on-court training can now recommence - see Basketball England Return to Play Document
Players considering returning to play should be aware of the Risks as discussed in this document
All Players must register with the Club - Click here for Membership details
Proposed Senior Sessions at Woking College are however please check with Sqaud Managers
Monday - Senior Men 3 - 8-10:00 (from 7 Sept)
Tuesday - Senior Men 1 and 2 - 8-10:00
Wednesday - Ladies - 8-10:00 (from 9 Sept )
Thursday - Senior Men 1 & 2 - 8-10:00
Friday - Senior Men 3 - 7:30-9:30
Club Development
As part of the objectives of the Club to Develop a Home Court facility , a proposal(or as described on the site 'an idea') has been entered on the Surrey County Council Your Fund web site.
This can be seen by Clicking Here
Please follow the link , click the 'Agree' button at the bottom to demonstrate support for this proposal.
This is an initial step, the Executive is presently developing a document 'Towards a Blackhawks Basketball Centre' that will support the development
Magic Little Lottery Grant
To assist with storage costas of Basketball Wheelchairs the MAgic Little Lottery has Granted THe Woking Blackhawks Wheelchairs £500.
This was won through Localgiving - You are now able to receive donations through Localgiving via this page: localgiving.org/woking-blackhawks-basketball-club

Woking Blackhawks Awarded £5,000 Grant
Woking Blackhawks Basketball CLub are pleased to announce that the Wheelchair Section of the Club have been awarded £5,000 by the Community Foundation for Surrey.
The award is assist with the funding of equipment, kit, training and coaching costs associated with running the Wheelchair Basketball Team which assist in promoting physical and mental health for people with disabilities.
The Wheelchair Section is affiliated to the British Wheelchair Basketball Association(www.britishwheelchairbasketball.co.uk ) and aims provide Wheelchair Basketball for players of all ages, sex and abilities.
Current inherent restrictions due to the Covid-19 pandemic are presently limiting Basketball Activity, which will be resumed when safe to do so.
For further information regarding the Wheelchair Activities of the Club please contact David Kingstone at This email address is being protected from spambots. You need JavaScript enabled to view it.
The vision of the Community Foundation of Surrey is "To build a strong movement of local philanthropists, connecting them with local charitable organisations – together to ensure that every individual in Surrey has hope" more information can be found at www.cfsurrey.org.uk
In accordance With British Basketball Wheelchair Asociation Guidance , Wheelchair Basketball Sessions Restart Sunday 11 October at Woking College 16:00-17:00